Private House-Call Dental Services
We are now taking reservations for our mobile unit's "House-Call" dental services.  You can enjoy the convenience of  our services while you remain in the comfort of your home. Your pet will receive quality, individualized, and personalized care.  The usual all-day stay at a hospital is eliminated, thereby reducing stress on your pet and increasing free-time for the pet owner.  These services are geared towards pet owners who would otherwise schedule their pets' dental cleanings at a regular veterinary hospital and who do not meet our low-income eligibility requirements for our low-cost dental clinics, but who would like to take advantage of these personalized services.  Please contact us for pricing and more information.
We provide affordable dental services for dogs & cats.  Our mobile dental clinics are held by appointment only for pets whose owners are experiencing substantial financial hardships.  If you do not fit into this category, we respectfully request that you make an appointment with us for our House-Call dental services, or in the alternative, you reach out to your regular or other veterinarian for these services.  Space is limited at our dental clinics which must be kept available for those who truly need our services and cannot afford dental services elsewhere.  We may ask for proof of annual household income to establish your eligibility to participate.
We do not provide dental or other services under anesthesia for brachycephalic (flat-faced) breed animals such as Bulldogs, Boxers, Pugs, Pekingese, Persians, Himalayans, Burmese, Ragdolls, and possibly other breeds or mixed breeds, depending on each individual pet.  These breeds should receive such services at a regular veterinary hospital.  We also do not provide dental procedures for pets which are simply too large for our mobile unit to accommodate (usually those over 50 lbs), or pets we believe are at higher risk to safely perform the procedure.
Depending on your pets age and other health-related factors, we may require pre-diagnostic blood work and a chest x-ray prior to undergoing any anesthetic procedure.  The reason for performing this lab work is to reduce risks associated with any anesthetic procedure.  Your pet's health and safety is our number one priority.  
We are able to provide any needed blood work at a substantially reduced price; however, we are not able to provide chest x-rays, so you would need those done at a regular veterinary hospital and then provide us with a copy.
An exam is always required by our veterinarian and is usually performed a couple of weeks prior to scheduling the dental procedure.  The cost for the exam is $15. The reason for the usual 2-week time frame is that if a pet has an infection, we may need to place it on antibiotics for ten to fourteen days prior to the procedure.  Additionally, if your pet needs any vaccines or lab work, this will allow enough time to have it done, either through us or another veterinarian.   
Our fee for a routine anesthetic dental cleaning (without extractions) is $450.  If, at the time of the exam we find that other conditions exist which may require additional medical attention (such as blood work, extractions, etc.), we will provide you with a written estimate or we may recommend that you go to a regular veterinary hospital for your pet's procedure.  
All pets must be current on their vaccinations at least 2 weeks in advance of the dental procedure.  (DOGS:  Rabies, DHPP, Bordetella and H3N2 vaccines)  –   CATS:   Rabies, FVRCP & FeLV vaccines).
We maintain a high standard of care, providing conscientious and quality services for your pet.  This is why we only take a very limited number of appointments at each clinic.  To schedule an appointment, please complete and submit the CLINIC RESERVATION FORM below.  If you are unable to fill out the form online, you may print and complete it, then scan or take a clear picture of it on your smart phone, then email it to us at heart4petsappointments@gmail.com or fax to 657-444-2210.  If you have difficulty, please contact us.
If your pet does not need any vaccines or other services listed on the form, only check the "PRE-DENTAL EXAM" box.   We will be in touch with you as soon as possible after we receive your Clinic Reservation Application form.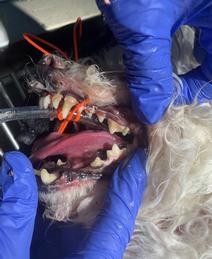 "After our dental prophy care"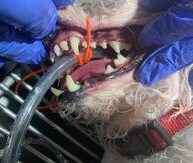 When making your payment, please consider making a contribution to our special fund which is specifically and solely used to provide dental services for pets owned by people experiencing homelessness.  These pets often suffer in pain from dental issues such as broken teeth or severe periodontal disease.  With your support, we are able to bring these much needed services to these beloved companions.  A donation of $25, $50, $75, $100 or more would significantly help in our ongoing mission to keep these pets healthy and safe.  Thank you for your compassion and generosity.